Fire
TIGERFLOW's fire pump systems are built, tested and ETL/C-ETL third party certified before shipment. SERIES FPS-7000 are cost-effective engineered fire protection systems for commercial, institutional, municipal, and industrial applications.
Our systems provide numerous advantages to owners locally, and worldwide. The pump system arrives on site meeting and exceeding all relevant industry standards, including NEC and NFPA guidelines.
BENEFITS
3rd Party ETL/C-ETL Labeled Systems ASME Section 9 Certified Welding
UL Listed/FM Approved Components
NFPA 20 & NEC 70 Compliance
Factory Tested
Single Source Responsibility
Start-up & Field Training
NFPA Pamphlet 20 Full Compliance
APPLICATIONS
Commercial
Institutional
Municipal
Industrial
STANDARD FEATURES
NFPA 20, NFPA 850, UL, FM, NEC compliance
Factory Tested
Start-up and Field Training
Prefabricated Skid Mounted Units (Pump, driver, controller and piping all mounted on a steel skid)
All required accessories per NFPA 20
PLC and HMI based controls technology
Third party labeled ETL
All controls labeled UL 508 "Industrial Control Panels"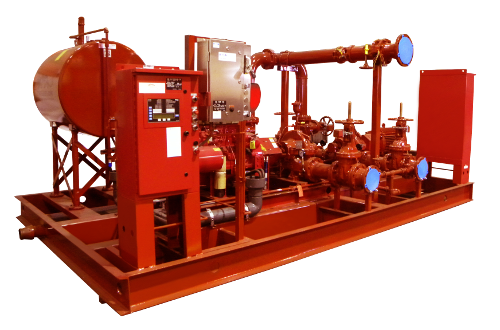 OPTIONS
Drivers: Electric Motors, Diesel Engine, Steam Turbine
Pumps: End Suction, In-line, Horizontal Split Case, Vertical Turbine
Prefabricated Units with Environmental Enclosures
How to Buy?
Go to our Search Reps directory to find a representative in your area.