HAWAIIAN AIRLINES AIRPORT MAINTENANCE HANGAR
Hawaiian Airlines was incorporated in 1929 under the name Inter-lsland Airways Ltd. That same year, thousands gathered in Honolulu to witness the departure of Hawaii's first scheduled inter-island flights to Maui and the Big Island Hawaii. In 1941 , the name was changed to Hawaiian Airlines. In the mid 1980's, they expanded their travels to Los Angeles after they received the first two of its leased Lockheed aircrafts. Since 2000, they have been voted the Best Airline 10 times and #1 On-Time Performance 7 times.
TIGERFLOW was given the opportunity to design and build a packaged fire pump station for aircraft hangar protection, inside of a prefabricated building. The system consists of:
(3) 1500 GPM Horizontal Split Case Aurora Fire Pumps rated at 250 HP diesel engines. A 13.5'Wx56'L prefabricated building with R30 walls and R45 ceiling panels
(2) 4″ float valves for tank fill
(3) Independent diesel tank till stations Firetrol controllers with stainless steel enclosures Common 14″ and 12″ suction and discharge manifolds Common flowmeter line
The Hawaiian Airlines Airport Maintenance Hangar utilized TIGERFLOW's: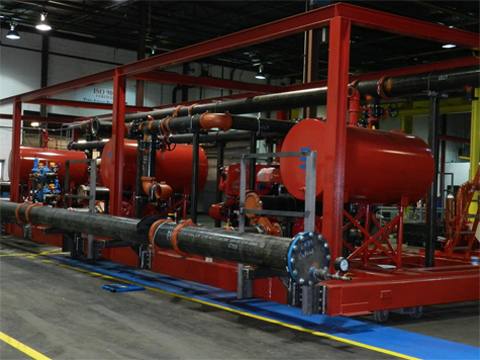 Meet our team of knowledgeable TIGERFLOW representatives that are dedicated to helping you design and create a complete system with our advanced engineered products.