The Synfuels Plant was America's first commercial-scale coal gasification plant located near Beulah, ND. The plant was built in the 1980s as an alternative source of energy for the United States. The Great Plains Synfuels Plant is a model of how coal can be used to produce energy in an efficient and environmentally responsible manner. They provide clean, efficient, and affordable energy solutions and products for rural Americans. Without coal there wouldn't be a Great Plains Synfuels Plant. The nearby Freedom Mine supplies lignite coal to Dakota Gas' Great Plains Synfuels Plant and other Basin Electric power plants in the area. Coal-based energy industries also provide a good living for employees and the communities that support gasification and power plant facilities.
We would like to thank Oslin Nation in Texas for this opportunity.
TIGERFLOW is proud to have designed and built three, ES-3000-H-VFD, steam to water heat transfer packages consisting of shell and tube heat exchangers, steam control valves, and skid mounted glycol makeup unit.
Dakota Gas utilized TIGERFLOW's:
HVAV Packaged Central Utility System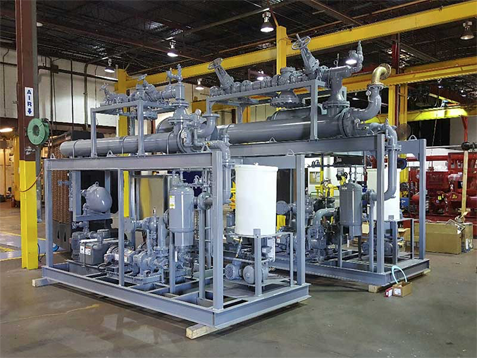 Meet our team of knowledgeable TIGERFLOW representatives that are dedicated to helping you design and create a complete system with our advanced engineered products.