SunTrust Park in Atlanta, GA is home to the Atlanta Braves. With its classic design, 41,149 capacity and great sightlines, it provides an intimate baseball experience. The large flow and pressure variance requirements of stadium applications pose a unique set of challenges. TIGERFLOW provided a custom design and control algorithm to meet the unique challenges of this project
The 2400 GPM system consists of:
(1) 7.5 HP Lead pump
(3) 20 HP Lag pumps
Mark V Panel w/

Variable frequency drives
ASHRAE 90.1 compliant control algorithm
BACnet communication
Flow trending graphing
Custom programming

(1) 185-gallon expansion tank
(1) Flowmeter
The SunTrust Park utilized TIGERFLOW's: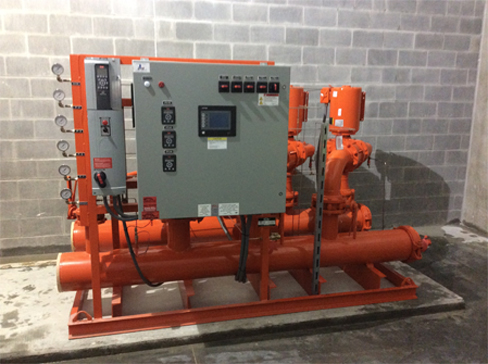 Meet our team of knowledgeable TIGERFLOW representatives that are dedicated to helping you design and create a complete system with our advanced engineered products.