TIGERFLOW Engineering Releases New End-Suction Booster Design
Media Contact: Demetrio Velasco, General Manager
Dallas, TX, 1/8/2020 —
The TIGERFLOW engineering team has released the new design for the Configure-To-Order booster systems utilizing end-suction style pumps.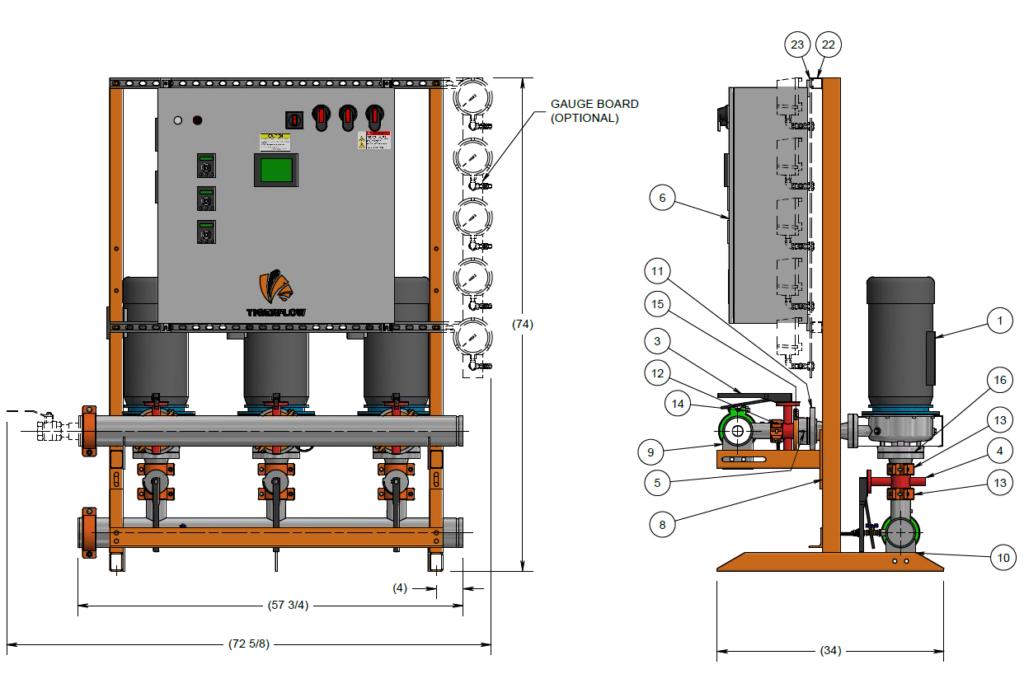 This new layout accommodates a standardized base that allows for installing multiple pump models and sizes in the unit. In addition to this, the consolidated design for piping sections enhances the production speed and reduces lead times.
The design includes a significant decrease in the footprint required to mount the package, making it feasible to install even more compact spaces in mechanical rooms.
The previous flexible configurations are still available with this design, including grooved or flanged connections that can be oriented in either direction, the ability to install vibration isolators and slide in through standard 36" wide doors. Add-ons like expansion tank and gauge boards are also available.
These systems can be configured using multiple pump brands and models, using our Global Proposal System (GPS), for multiple pump splits, condition points, electrical connections, and software and communication options.
TIGERFLOW strives to provide the best pumping system in the market with user-friendly tools and competitive prices.
The new design is available now! And we are offering design upgrades to the new version at no cost for previously quoted and submitted projects.
If you are an installing contractor or specifying engineer in need of training on how to use our GPS to access the configurator, along with drawings, 3D models, cut sheets, and electrical diagrams directly through our website, contact your local representative using the Search Rep interactive map and request to schedule a training with one of our engineers.
For additional information, contact: Demetrio Velasco, General Manager
For over thirty years, TIGERFLOW Systems LLC has been an industry leader in manufacturing engineered packaged pumping systems. Based out of Dallas since 1985, TIGERFLOW was founded to design, manufacture and ship the best packaged system for many different markets – Plumbing, Fire, Heating Ventilation and Air Conditioning, Irrigation Municipal and Industrial.