Saving Space in Booster Systems
Media Contact: Demetrio Velasco, General Manager
Dallas, TX, 11/3/2020 —
As more and more mechanical rooms reduce in size, there is a more significant need to get mechanical equipment, including booster systems, in less space.
TIGERFLOW is aware of the situation and designs the booster stations considering such space limitations.
One way that space is conserved in our standard design for vertical multistage pump booster is by using a flange adapter that allows for different size flanges to be connected in each size.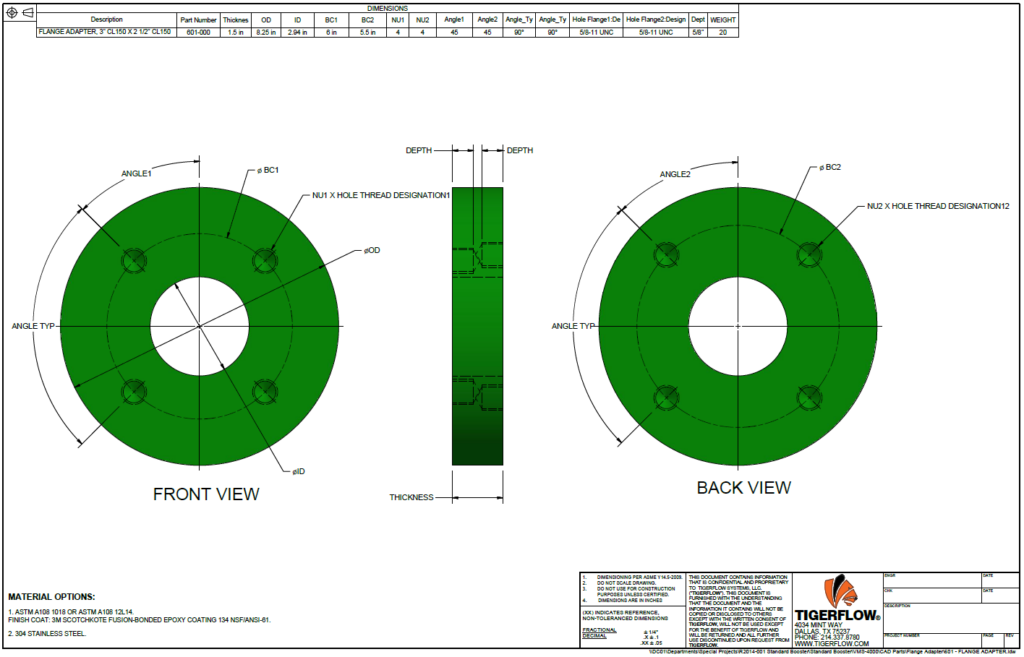 For example, the drawing below shows the back view of the adapter that will be connected to a Class 150 2-1/2″ flange at the pump connection. On the front side, the adapter is joined by a 3″ Class 150 flange.
By doing this, there is no need for a welded reducer to connect the 2-1/2″ pump flange to the 3″ check valve on the system.
TIGERFLOW specializes in pumping stations' engineering designs to accommodate different challenges, including space constraints, entryway limitations, and custom configurations.
To learn more about TIGERFLOW's design, contact your local representative using our Rep Locator.
For over thirty years, TIGERFLOW Systems LLC has been an industry leader in manufacturing engineered packaged pumping systems. Based out of Dallas since 1985, TIGERFLOW was founded to design, manufacture and ship the best-packaged system for many different markets – Plumbing, Fire, Heating Ventilation, and Air Conditioning, Irrigation, Municipal, and Industrial.